Tired of spending more and getting less when it comes to your IT services?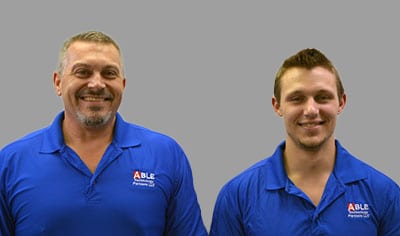 Brian Minker and George Davis founded ABLE Technology Partners LLC in 2013 to provide IT solutions to better serve small and mid-sized businesses and offer more than traditional IT options. Our managed IT services, backup and disaster recovery solutions, SPAM solutions, technology consulting, data cabling, and more, gives business owners the peace of mind they need to stop worrying about technology and focus on their business.
ABLE is a fully functioning IT department, which provides several advantages over other options.
At Able Technology, your company's most valuable information and processes do not rest solely on the hands of just one person who could either be out sick or quit in the blink of an eye – leaving you with nothing. We are far less costly than keeping an inhouse full-time IT person and unlike other IT companies that charge by the hour for temporary fixes, we charge a fixed fee per month based on your IT needs. This not only ensures that your network stays up and running each and every day, but it allows for entirely predictable IT expenses.
Another advantage?
We have real people answering your calls during business hours – and frequently fixing client issues in one call only!
We take pride in being a highly responsive, knowledgeable resource for our clients. We are here to help you leverage your technology to meet your strategic goals. We want you to rest easy knowing that we are continuously managing your IT. By allowing us to do so, this will give you and your employees the ability to be more productive than ever!
…and let us show you what our expert services can do for your business!